Home
/
Background
This site is run by Andrew Field and Liza Field who together run FieldResources.co.uk Ltd.


Andrew Field


I am Head of Faculty for ICT and a History teacher at Neale-Wade Community College, March, Cambridgeshire. I became a Macromedia Education Leader in June 2005.

Soon after becoming a teacher in 1998 I became captivated by the potential use of ICT in education. However, I rapidly became frustrated by the potential use. Instead I wanted to push the actual use, the effective use of ICT. This is why I began creating websites to showcase how ICT could be used in reality - rather than just on paper.


Liza Field


I am Director of Music with additional responsiblity for researching the impact of teaching and learning at Soham Village College, Soham, Cambridgeshire.

Within my first year of teaching I became enthralled in the benefits of ICT within Music. The world of Music Technology was a whole new area for me. I am still by the impact of technology within the Music classroom, always striving to explore new ways to engage students.


About the site


EffectiveICT.co.uk was begun in June 2005 and will be launched in September 2005.

This site is designed to showcase what I believe to be the effective use of ICT, explaining and illustrating how anyone can make effective use of ICT. This site will provide no-nonsense guides to using the major ICT applications with a specific focus on their educational use.

Initially the site focuses upon Macromedia Studio MX 2004 to support training we are providing. However, we are extremely keen to develop resources and ideas to develop cross-curricular use of ICT - this is something within the reach of all school departments with a little planning and resourcefulness.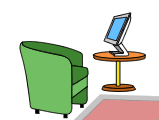 Additional work


In addition to our main teaching roles we run a number of award winning educational websites including SchoolHistory.co.uk, ReviseICT.co.uk, MusicatSchool.co.uk, NormanConquest.co.uk, TwelfthNightSite.co.uk.

We also run ContentGenerator.net a website that sells a range of content generator programs - these user-friendly programs allow anyone to create their own versions of our e-Learning games, quizzes and activities.

We have worked and continue to work with many leading education companies and organisations including the National Grid for Learning, LearnPremium, Teachernet.gov.uk, the National Archives' Learning Curve, Amazing Grades, Macromedia, Boardworks, DigitalBrain.com, East of England Broadband Consortium, the Historical Association, TeachIt, the Times Educational Supplement, Becta, the BBC and the DfES.

About the site
| Page updated 30 November, 2006 |
Feedback